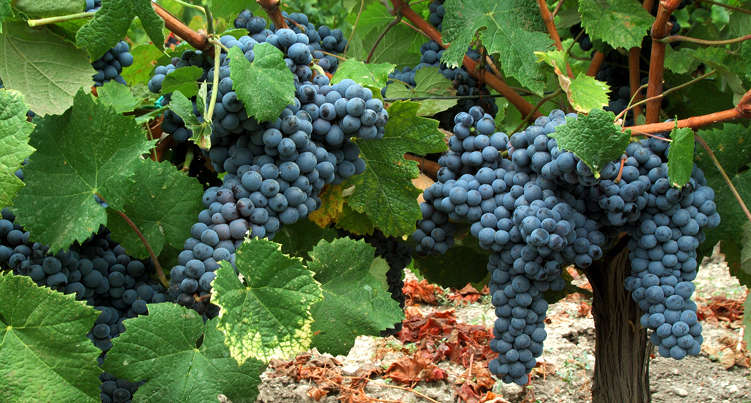 The teaching of tradition
Guarda 'l calor del sol che si fa vino, Giunto all'umor che dalla vite cola.
To take care of vineyards is the first step to guarantee grapes quality and each step, each action are dictated from a deep research of quality, the fruit of knowledge jealously guarded through time and managed with respect of the rhythms observed from nature and its processes.
People look after vineyards because from them they obtain elements to compose wine, which has always been an element of conviviality and sharing.
All processing steps take place on site, from the crushing to the vinification, at a controlled temperature, to the bottling.
The Cagnulari
The Cagnulari is a red grape vineyard, grown mainly in the province of Sassari. It seems that Spanish people introduced this kind of grape in Sardinia during the period of their domination. This vineyard settled quickly and now it can be defined as a native vine, with bunches of medium size, which are rich in sugar and polyphenols and which have a good acidity, qualities that enable a wine with a deep red colour, with substance and acidity, with an intense aroma and geranium scent, and an alcohol volume of roughly 12%. Versatile wine, differs in the scents and its tasting aromas in relation to the characteristics of cultivation of the soil, preferring predominantly clayey and a temperate and windy microclimate. In the past this kind of wine was sought after as a blending wine and for this reason it was exported in France. Today this wine has its own personality, especially thanks to the winemaker's dedication and to the wise dosage of traditional knowledge and modern technology.
The Bovale
Certainly of Spanish origin, like the previous (Cagnulari), with the spread all over the Island of Sardinia, has differentiated over time in different clones which there are two distinct varieties: the Sardinian Bovale (Bovale Sardo or Bovaleddu) and the Spanish Bovale (Bovale di Spagna or Bovale Mannu).
The first one grows in almost all the wine-producing areas of Sardinia but manly in the territory of the province of Sassari and Oristano where it finds an ideal habitat.
Bovale is a native varietal, vigorous, with good output, is distinguished by the small composition of the bunch with black grapes, round and small, that contain a high quantity of sugary substances and an intense presence of flavones, known as an antioxidants source. Sardinian Bovale is austere and with an intense aroma, it's tannin, with red fruits and spices scents, like the large Bovale it is almost exclusively in combination with other wines to which it gives an intense coloration.
The Vermentino
It is the most famous and characteristic grape variety of Sardinia. It came here from the Iberian Peninsula, passing through Corsica. In Sardinian northern area there is a great diffusion of Vermentino; more than 75% of fields are vineyards. Gradually its plantation has spread across the island.
It adapts easily to different weather conditions and land varieties. It is characterized for its early maturity, good productivity, its resistance to bad weather conditions and to cryptogamian diseases.
Wines obtained from Vermentino have straw yellow color with green glare. The aroma is intense and fruity, the palate is pleasantly dry with slightly bitter almond aftertaste, soft and mellow taste.
Depending on the production area and on the harvest time its alcoholic content can vary from 11° to 15°.
The Cannonau
It is the most famous and typical red grape variety in Sardinia. Its plantation can be found all the island long, but with preponderance in the inland. Recent studies have revealed its widespread provenance. It doesn't need specific weather conditions. It has autochthon and ancient origin. As a matter of fact Cannonau can be date back to 3200 years ago.
This grape variety has medium sized bunch grapes, fairly compact or compact. Individual grapes are round with black, purple colored  thin skin, neutral taste, with rose-colored juice.
Cannonau has a late ripening (III or IV time). It is utilized to produce the homonymous DOC wine "Cannonau di Sardegna" in different typologies and denominations. The wine needs a high alcoholic content in order to enhance its intense, vigorous, full-bodied and elegant character.